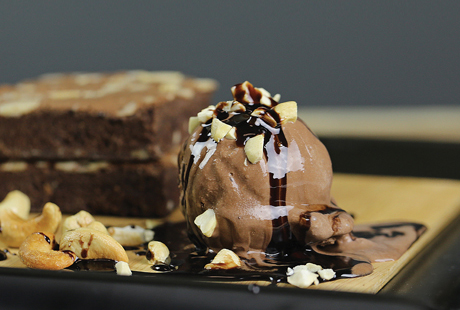 Hot Fudge Brownie Sundae
Preparation time: 2 hours
Ingredients
• 2 cups white sugar
• 1 cup butter
• ½ cup cocoa powder
• 1 teaspoon vanilla extract
• 4 eggs 1½ cups flour
• ½ teaspoon baking powder
• ½ teaspoon salt
• ½ cup walnut halves
The Sundae
• 1 scoop Chocolate ice cream
• 2-3 teaspoons chocolate sauce
• 1 tablespoon chopped cashew nuts
Preparation
1
Melt the butter and mix all ingredients for the brownie mixture together.
2
Bake at 175˚C for 20 to 30 minutes in a 9 x 13 inch greased pan. Sliced into equal square portions.
3
Place brownie cake nicely onto serving plate. Add 1 scoop of Chocolate ice cream.
4
Drizzle chocolate sauce and top with cashew nuts.  Ready to be served.