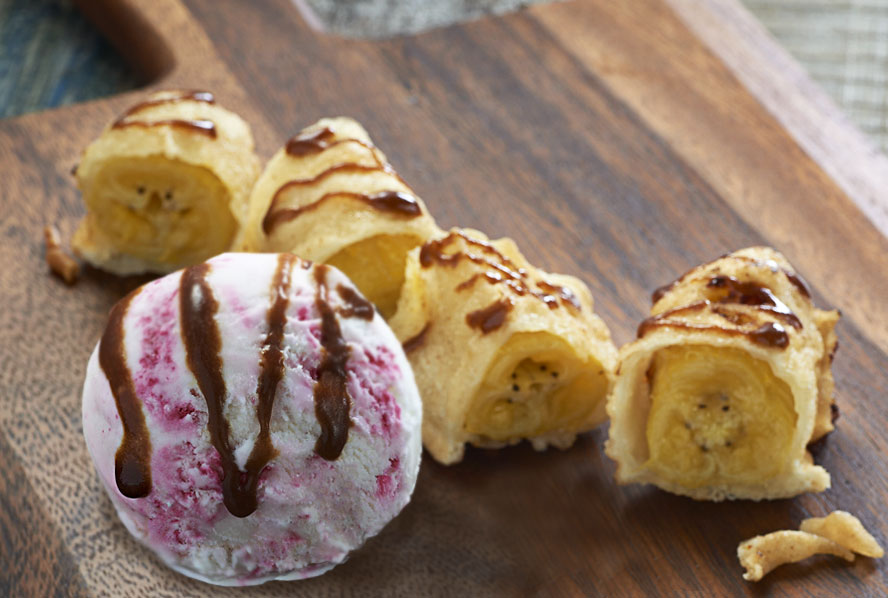 Fried Banana with Toffee Butterscotch sauce & King's Raspberry Ripple Ice Cream
Preparation time: 2 hours
Ingredients
• 1 cup of plain flour
• 1 tablespoon of corn flour
• 1 tablespoon of baking powder
• 1 teaspoon of cooking oil
• 1 cup of fresh milk
• 2 bananas
• 1 scoop of King's Raspberry Ripple ice cream
The Sauce
• 1 tablespoon of butter
• 2 tablespoon of brown sugar
• 1 tablespoon of coffee mixture
• 4 tablespoon of evaporated milk
• 2 tablespoon of King's Raspberry Ripple ice cream
Preparation
1
For Fried Banana, combine plain flour, corn flour, baking powder, cooking oil, and fresh milk then mix until smooth.
2
Fold in banana slices until evenly coated. Drop banana mixture into hot oil and fry until golden brown and crispy. Remove banana slices from oil and drain it over paper towel.
3
For Toffee Butterscotch sauce, place the brown sugar, butter, evaporated milk and King's Raspberry Ripple ice cream in a saucepan.
4
Stir over medium heat until well combined. Add in coffee mixture and continue stirring until the sauce thickens slightly.
5
Remove the pan from heat. Drizzle the Toffee Butterscotch sauce over the banana slices and add a scoop of King's Raspberry Ripple ice cream.